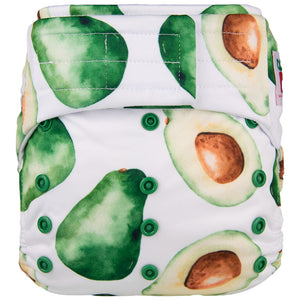 One size fits most hook and loop nappy cover.
Fits from about 6kg to about 17kg
Waterproof outer polyester and TPU. There are 3 rows of adjustable rise snaps that allows for 4 different size options - S/M/L/XL. Can also be used as a AI2 system
*Made with high quality materials.
 *Hook and loop closure system makes this nappy user friendly.
*Excludes inserts/flats
Machine wash 40°C. To protect the TPU layer: Tumble dry on LOW for no more than 20 minutes or line dry in shade.
6 months quality warranty.