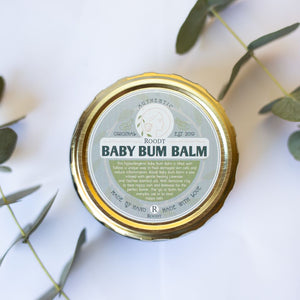 Roodt Baby Bum Balm 200ml
This Baby Bum Balm is made with tallow, naturally rich in hydrating lipids , vitamins  A, D, E & K, and antioxidants which help to heal damaged skin cells and reduce inflammation. 
Infused with gentle healing lavender essential oils, tea tree essential oil and Chamomile essential oil for its anti-inflammatory, antibacterial and antiseptic properties providing effective protection and helps soothe and calm baby's sensitive bottom.
Organic extra virgin olive oil  to sooth, soften and moisturise delicate skin.
Beeswax for its antiviral, anti-inflammatory and antibacterial properties, forming an effective breathable protective barrier to seal in moisture.
Bentonite Clay, an effective healing ingredient for skin.
A "go to" salve to help with diaper rash or perfect for everyday use.
Cloth diaper safe.
How to use: Apply Roodt Baby Bum Balm after every nappy change, or when needed. Scoop out a small amount, warm and soften between fingers and apply. Small amount goes a very long way.
All Ingredients: 100% NATURAL Tallow (Beef), Beeswax, Bentonite Clay, Extra Virgin Cold Pressed Olive oil, *Lavender oil, *Tea Tree essential oil,  *Chamomile essential oil.
Free From: Animal testing, Alcohols Sulphates, Petro-Chemicals and Mineral oils, Artificial Colours, Fragrances and ingredients created in a lab, Parabens, Preservatives 
*Please note when using ANY new product on infants or young children we recommend a patch test for allergies or sensitivities.