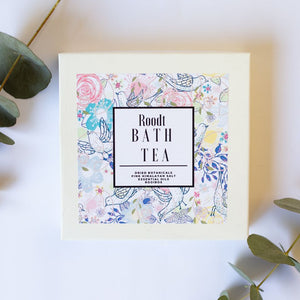 Roodt Bath Tea, 6 tea bags. Contents of box +-600g
Roodt bath tea bags go straight into your running bath water, infusing and releasing  beautiful aromas and goodness.

Lie back, rejuvenate and relax while the specially selected blend of botanical ingredients and pink Himalayan salts soften your skin and cleanse your pores.
Roodt bath tea also increases skins hydration, has anti-inflammatory properties and helps boost collagen production. What's not to love?!
Handmade, all natural and cruelty-free.

*Do not use if pregnant, not intended for children.
*Do not squeeze the tea bag, it will infuse on its own.
Ingredients: rose petals, chamomile flowers, frankincense, orange flowers, calendula flowers, hibiscus flowers, jasmine flowers, African rose geranium bark, lavender flowers, rosehip, rooibos tea, myrrh resin, pink Himalayan salt, essential oil blend, green tea