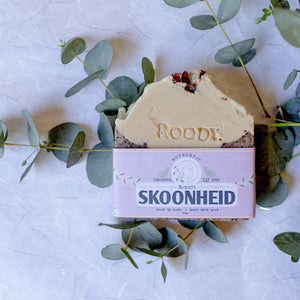 Roodt Boer Skoonheids seep.
A harmonious blend of stress-soothing oils and rooibos, infused into a traditional Roodt- Boerseep to help ease those busy and anxious minds.
Each soap is made with sustainably sourced oils, a gift from the world's botanical and pure tallow.
Oils of Palmarosa, Rosalina, Copaiba Oleoresin, Frankincense Serrata, Frankincense Carteri, Sandalwood, Neroli and Rose Absolute come together in a skin calming, anti-aging mix.
These precious blends are mixed into a base of hydrating Tallow. Roodt Boerseep makes for an excellent everyday beauty soap, perfect to treat common skin ailments.
Roodt –Boer Skoonheids seep is formulated to help reduce the effects of time on the skin, such as fine lines, patchy pigmentation and loss of elasticity.
Rooibos is rich in alpha hydroxyl and zinc – both important nutrients for healthy skin.
Zinc heals wounds, protects against UV rays and has anti-inflammatory properties, which could alleviate acne, pimples and sunburn.
Anti-Ageing and skin calming Synergy harnesses the power of natural essential oils such as skin balancing Palmarosa, soothing Copaiba, and skin-smoothing Rose Absolute.