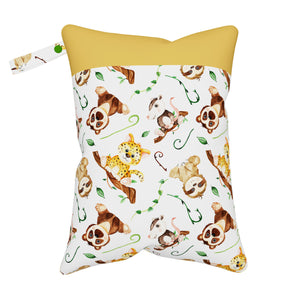 *Reusable and waterproof double zipper wet bag.

* Two compartments for keep wet and dry things separate. Each bag contains a "wet" section that is sewn and sealed for no wicking or leaking. Not intended to keep items dry underwater

*Holds approximately 5-7 cloth nappies, style and shape dependant.

*Comes with snap handle for easy carrying or attaching to your nappy bag or stroller.

*Multi-functional, can also be used as a travel bag, storage bag, cosmetic bag, toiletry bag etc.

*6 months quality warranty.



Details
*Height: 30cmx40cm.
*2 pocket waterproof wet bag.
*Polyester with TPU coating and zipper closure.